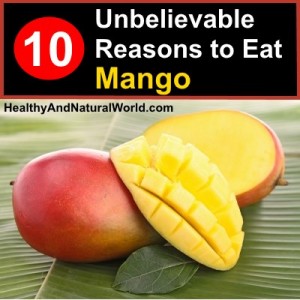 So, let's take a look at why mangos are such a smart and healthy choice for your diet.
1. It Helps Fight Cancer
2. It Preserves Sharp Vision
3. It Supports Heart Health
4. It Keeps the Skin Young
Vitamin C in mango supports collagen production, which makes your skin tighter and firmer. Since mango's zeaxanthin and lutein protect from the harmful effects of UV light, eating mangos can reduce skin damage from the sun. Mango can also unclog skin pores and is used as a face mask. Now I understand why that girl was wearing slices of mango on her face, I hear some of you exclaim.
5. It Boosts Brainpower
6. It is a good source of Fiber
7. It is High in Key Vitamins and Minerals
Mango contains a plethora of essential vitamins and minerals. When you eat this refreshing fruit, you're treating your body to a dose of vitamin A, vitamin C, and vitamin K. The latter supports bone health. And then there is the conglomerate of B vitamins. B1, B2, B5, B6, niacin and folic acid can all be found in mango. Folic acid is particularly important for pregnant women, as it reduces the possibility of birth defects. One cup of fresh mango supplies 71 mcg of folic acids, and the daily intake should be around 400 mcg. But that's not all. Mango is also a great source of minerals, including potassium, magnesium and calcium. This really is the king of fruits and such a great source of nutrients!
8. It Aids Your Digestive System
One thing that helps your digestive system is the abundance of fiber in mango. And the other thing is the presence of a digestive enzyme that helps break down proteins. The enzymes are present in ripe mangoes, so check the fruit for ripeness before you eat it. If you can get hold of mango flowers, they are also used to cure diarrhea, chronic dysentery and urinary tract infections.
9. It Boosts Your Immune System
10. It Help With Your Dieting Efforts
Mango can be so deliciously sweet, yet is very low in calories. One cup of mango comes to only 100 calories. According to the University of Oklahoma, a diet which involves eating mangoes, regulates the appetite, and reduces the levels of glucose and cholesterol in the blood. Isn't it great when dieting can be supported by tasty food?
So start eating mango today! It can be enjoyed in many different ways – as a healthy snack, a part of a delicious smoothie, or mixed into salsas and chutneys. For extra kick, enjoy it with a little bit of chili powder or lime juice. Personally, I just like